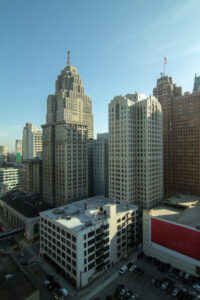 Earlier this month, the Detroit City Council voted unanimously to approve new, stricter regulations for rental property owners. Under the terms of the new ordinance, tenants can now legally withhold rent payments from landlords if their properties are not in compliance with city code.
Although landlords in Detroit are required to register their rental properties and undergo regular safety inspections, the city has, by its own admission, failed to enforce these rules effectively for more than a decade. Last year, only 4,174 rental units of an estimated 140,000 were registered and inspected by city officials. This new ordinance is designed to give landlords a monetary incentive to bring neglected properties up to code.
Furthermore, the new ordinance allows the city to withhold certificates of compliance if a landlord is behind on property taxes "totaling more than $1,000 for more than six months." Landlords who fall behind on their taxes or receive blight violations can also be subject to more frequent inspections. All rental units will be required to undergo annual lead hazard inspections, regardless of their compliance status.
"Every Detroiter who is a renter deserves to be able to live in a home that is safe and up to code," said Mayor Mike Duggan in a statement following the announcement of the new ordinance. "And every landlord deserves a fair and efficient city process."
Do you have some lingering questions about what this new ordinance means for your rights as a tenant or property owner?  Give us a call to speak with the attorneys at the Law Offices of Aaron D. Cox today.