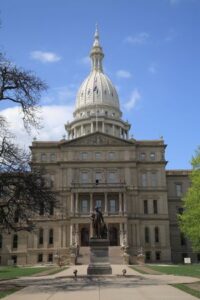 Good news for affordable housing advocates in our area: on July 22, Michigan Governor Gretchen Whitmer and Detroit Mayor Mike Duggan announced that Detroit will receive over $6 million in tax credits for low-income housing.
The credits will help finance more than $100 million in housing investments.
The Michigan State Housing Development Authority (MSHDA) has chosen five affordable housing developments in Detroit to receive six Low-Income Housing Tax Credit (LIHTC) awards. One of the developments, Orchestra Place Apartments, is designated specifically for seniors.
In total, 553 units will be either preserved or created. The vast majority of them (92%) will be affordable for people who make between 30 and 80 percent of the area median income (AMI)—in other words, those earning between $16,050 and $42,800 a year.
The five affordable housing developments are in Midtown, Brush Park, East Riverfront and Milwaukee Junction. In all of these neighborhoods, rents have increased dramatically in recent years, placing a strain on lower-income families and concerning community advocates.
Citizens and politicians in Detroit have been concerned about affordable housing of late, especially since about 45 percent of the city's affordable housing tax credits may expire by 2023. To help remedy the problem, the city created the $250-million Affordable Housing Leverage Fund in 2018, which is dedicated to building and preserving affordable units.
If you're a landlord in Detroit, you can count on the Law Offices of Aaron D. Cox to help you navigate any and all legal issues you might have. Call us at (734) 287-3664 today to learn more.