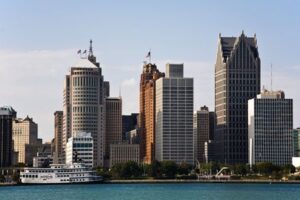 Another historic building in Midtown Detroit is getting a new lease on life thanks to a multi-million dollar investment from its new owners. The former Milner Arms apartment building, now known as The Hamilton, is currently in the process of undergoing a $12 million renovation that is scheduled to be complete in the fall of 2018.
Located at 40 Davenport St. off of Martin Luther King Jr. Boulevard, The Hamilton was purchased for $3.3 million by an affiliate of Broder & Sachse Real Estate Services in 2016. The building first opened in 1913 as the Hotel Stevenson, and it was placed on the National Registrar of Historic Places in 1997.
Improvements to The Hamilton will include new HVAC, plumbing and electrical systems; new flooring and appliances in each rental unit; upgraded landscaping and a complete restoration of the building's historic ballroom. Broder & Sasche has committed to keeping 93 of the building's units as affordable housing.
Current residents were relocated earlier in 2017 in preparation for the renovations. Once construction is complete, the residents will be moved back in at no cost to them. Upon returning, they will receive a one-time 5 percent increase in rent, and a maximum rent increase of 1 percent per year in the future.
"Construction is just the first step in preserving another historic building in the [Midtown] area that has long been home to Detroiters, and we look forward to welcoming residents back home after the necessary fixes are made," said CEO Richard Broder of Broder & Sachse in a statement.
The renovations on The Hamilton are ongoing, but preleasing is slated to begin in the spring of this year.